Opening Bell: Equities Rally, U.S. Futures Wobble; Silver Soars; Oil Slumps
US lawmakers continue trying to reach deal on a COVID-19 economic relief
ADP release suggests weak job market, potentially slowing economic growth
Key Events
The global equity rally seemed to lose momentum on Thursday, and futures for the Dow Jones, S&P 500, NASDAQ and Russell 2000 wavered, as US lawmakers remained mired in a stalemate over additional stimulus amid struggles with shutdowns as coronavirus outbreaks flare.
European stocks were whipsawed this morning after a mixed Asian session.
Yields headed lower. Gold and silver gains continued and oil fluctuated.
Global Financial Affairs
After a raucous open, stocks in Europe are lower at time of writing. The Stoxx Europe 600 Index Index extended an earlier drop after the BoE warned that it will take the UK economy till the end of the next year to recoup COVID-19 related losses.
However, the pan-European index briefly flipped into positive territory, possibly pricing in Germany's better than expected factory data. We are under the impression that currently investors are sensitive to any small change, perhaps too easily pivoting from one direction to another.
Having beaten earnings forecasts, Siemens (DE:SIEGn) surged, (+ 3%). Conversely, after announcing it was halting its dividend because of falling profits, ITV (LON:ITV) plunged.
Thursday's trading in Asia was uneven. Among the gainers, South Korea's KOSPI outperformed, (+1.3%), after Samsung Electronics (KS:005930), the country's largest company, unveiled three new smartphone models which it hopes will revive sinking sales. Australia's ASX 200, (+0.5%), was lifted by strong acceleration in commodity prices which were boosted by expectations that China's economy is on the mend since the country appears to have largely recovered from the pandemic.
Losing indices this morning included Hong Kong's Hang Seng, which underperformed, (-0.7%), as did Japan's Nikkei 225 (-0.4%).
On Wednesday, The S&P 500 Index extended a rally to a fourth straight day on positive vaccine news and hopes lawmakers might finally come to some resolution on the government's next coronavirus aid package. The benchmark index came within 2% of its February record, wiping out any losses from the COVID-19 selloff. The NASDAQ Composite added yet another record.
Yields, including for the 10-year Treasury, returned to a decline.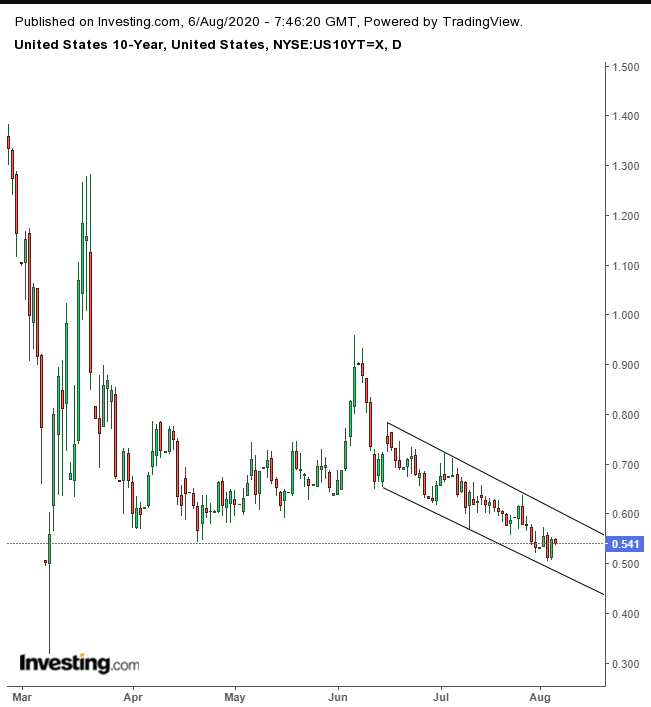 UST 10Y Daily
Rates remained within a falling channel only 2 basis points from the record low.
The dollar was off its lows, for the third time at these levels.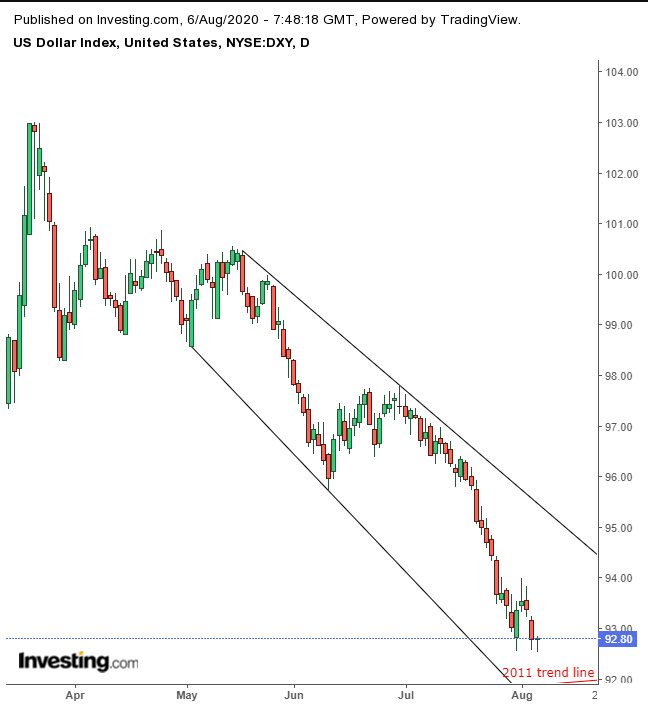 DXY Daily
The greenback appeared to have found its footing, again, remaining above the uptrend line since 2011, peaking at the bottom of the chart in red, by 92.00.
Gold–like equities–is climbing for the fourth straight day, testing yesterday's intraday highs.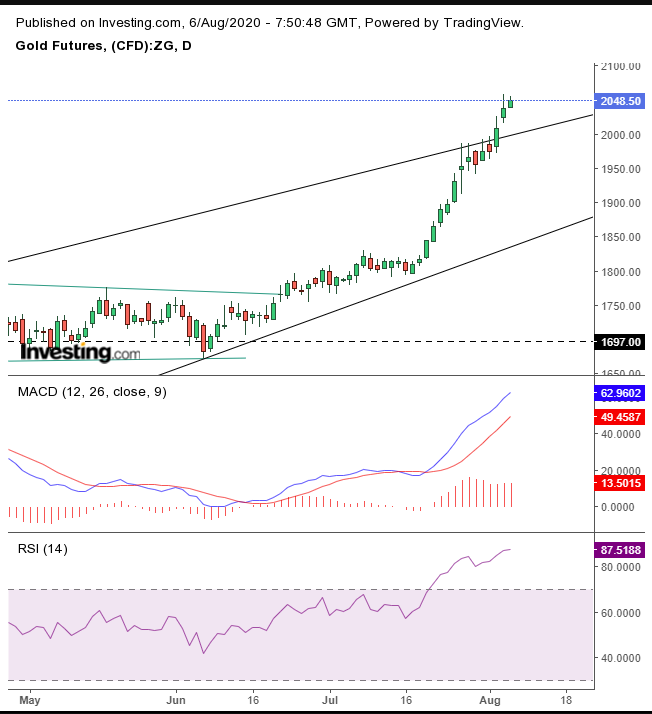 Gold Daily
The yellow metal's current move comes after it broke through the top of a rising channel, blowing the RSI and MACD into extreme overbought conditions.
The contradictory message being sent by safe haven gold at record highs even as stocks are at or near record levels becomes even more discordant after yesterday's ADP jobs release missed estimates. It suggests the pickup in coronavirus cases is putting the brakes on the job market.
Oil–which spiked higher after the portside explosion in Beirut initially sparked fears of a supply disruption out of the Middle East–pared gains.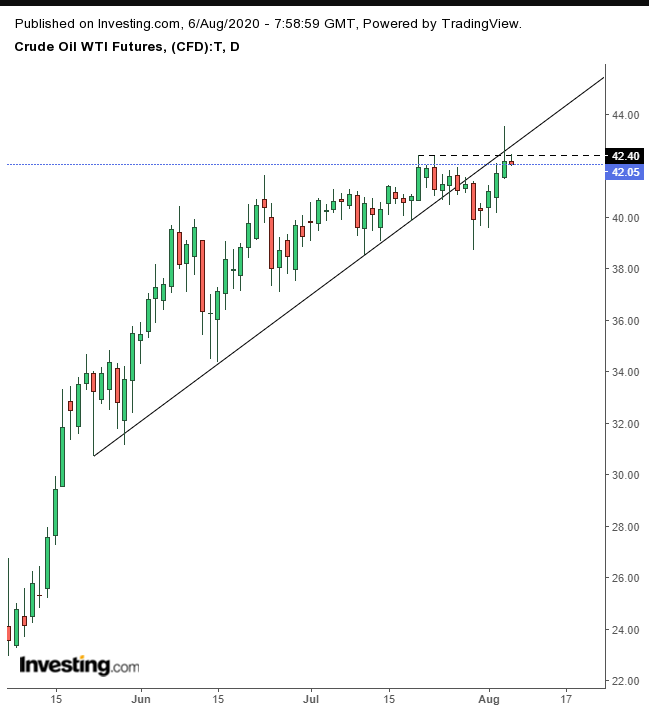 Oil Daily
Technically, WTI is now contending with a shooting star, whose long upper shadow makes it especially bearish, confirming the July highs.
Up Ahead
Market Moves
Stocks
The Stoxx Europe 600 Index declined 0.1%.
Futures on the S&P 500 Index increased 0.2%.
NASDAQ futures climbed 0.2%.
The MSCI Asia Pacific Index rose 0.1%.
Currencies
The Dollar Index rose 0.05% to 92.86.
The euro gained 0.1% to $1.1869.
The Japanese yen strengthened 0.1% to 105.53 per dollar.
The South African rand weakened 0.5% to 17.4102 per dollar.
Bonds
The yield on 10-year Treasuries fell less than one basis point to 0.54%.
The yield on two-year Treasuries declined less than one basis point to 0.12%.
Britain's 10-year yield increased one basis point to 0.137%.
Germany's 10-year yield climbed less than one basis point to -0.50%.
Commodities
West Texas Intermediate crude gained 0.2% to $42.28 a barrel.
Gold strengthened 0.6% to $2,050.64 an ounce.
Silver strengthened 2.7% to $27.68 per ounce.