Investors Piled Into Consumer Discretionary, Tech This Week
"S&P 500 companies slashed or suspended over $40 billion in dividends in the second quarter, the deepest quarterly drop since 2009." (Dow Jones)
Market Indexes: The market rose again this week, although with much lower market breadth. Investors continued to pile into large-cap Tech stocks, sending the NASDAQ up 4%. Rising coronavirus cases curbed the appetite for small caps, with the Russell 2000 falling -.77%.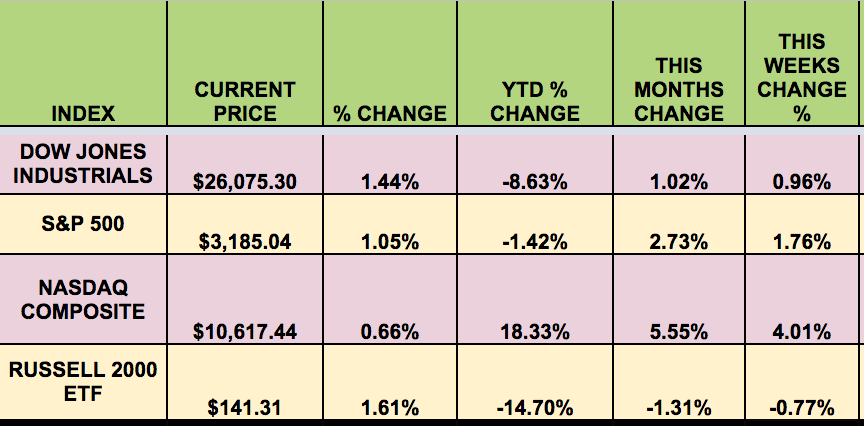 Market Indexes
Volatility: The VIX fell 1.5% this week, ending at $27.25, vs. $27.68 last week.
High Dividend Stocks: These high yield stocks go ex-dividend next week: SBR, NEWT CYD, BFS.
Market Breadth: 7 out of 30 Dow stocks rose this week, vs. 19 last week. 35% of the S&P 500 rose, vs. 74% last week.
FOREX: The USD fell vs. most major currencies this week, except the Loonie.

USD Weekly Performance
Economic News:
"1.31 million new claims were filed through the states in the week of June 28 to July 4, the government said Thursday. Although they have fallen from a peak of nearly 7 million in late March, more than 1 million new applications for unemployment benefits are being filed each week. And that doesn't even include workers who filed through a temporary federal relief program.

Perhaps worse, the number of people receiving benefits through all state and federal programs has hovered near 30 million from the first week of May to late June. These are known as continuing jobless claims. The rose again in the week ended June 20 to 32.9 million." (MarketWatch)

"The ISM's non-manufacturing activity index jumped to 57.1 in June, almost returning to pre-pandemic levels, but a recent surge in COVID-19 cases in the United States has threatened the emerging recovery. A sharp jump in COVID-19 cases recently in the United States has cast a shadow over the strong rally in stocks as many states have curtailed their reopening plans, threatening to derail the economic recovery. During the Independence Day weekend, several states reported a record increase in new infections, with Florida surpassing the highest daily tally reported by any European country during the peak of the outbreak." (Reuters)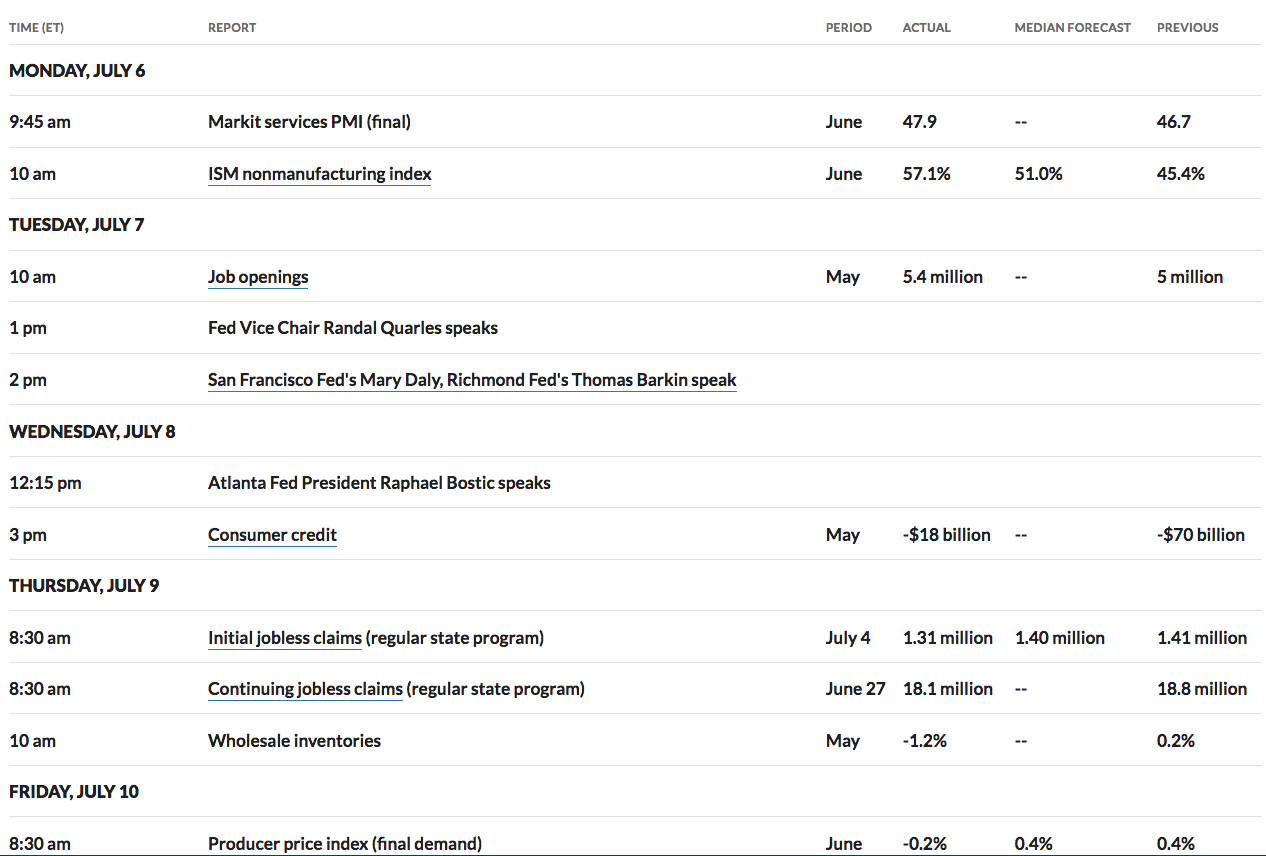 Economic Reports
Week Ahead Highlights: Several Housing reports will come out next week, in addition to retail sales for June.
Next Week's US Economic Reports: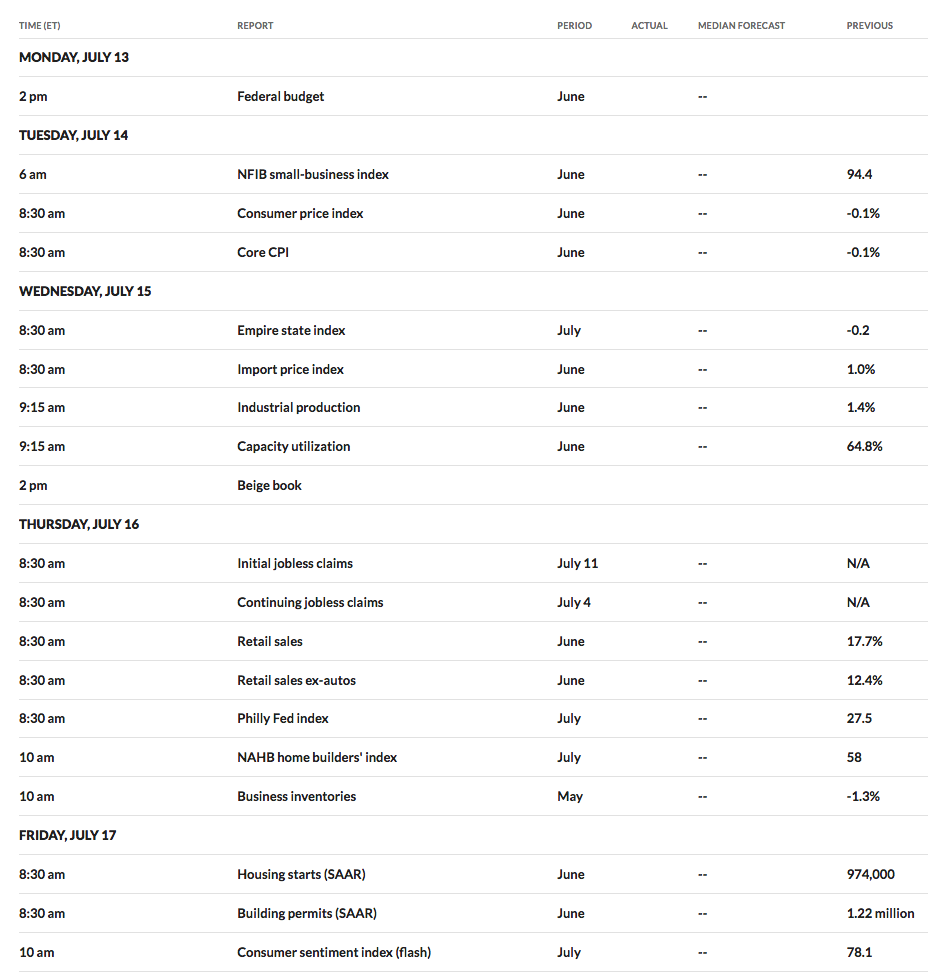 Next Week's US Economic Reports
Sectors: Consumer Discretionary and Tech led this week, and continue to lead year to date.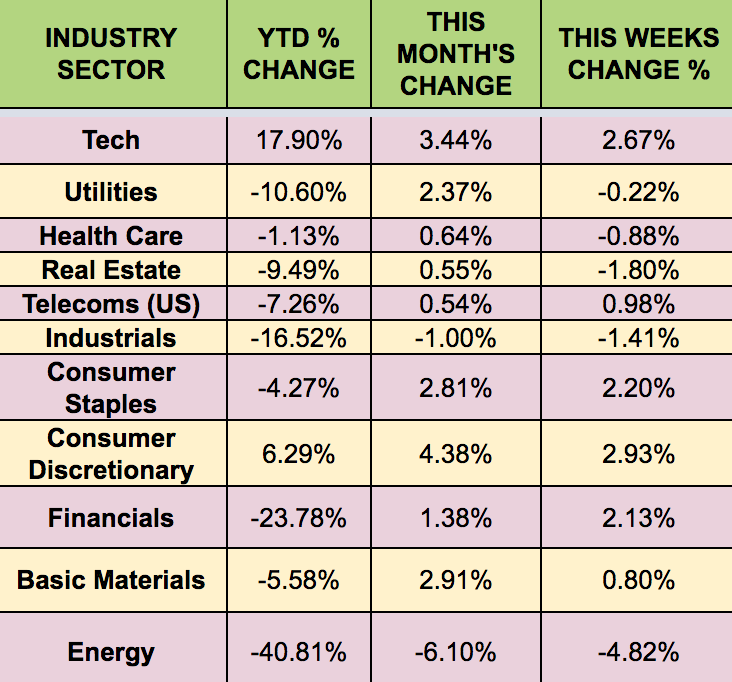 Sectors Weekly Performance
Futures: WTI rose 5.22% this week, ending at $40.49.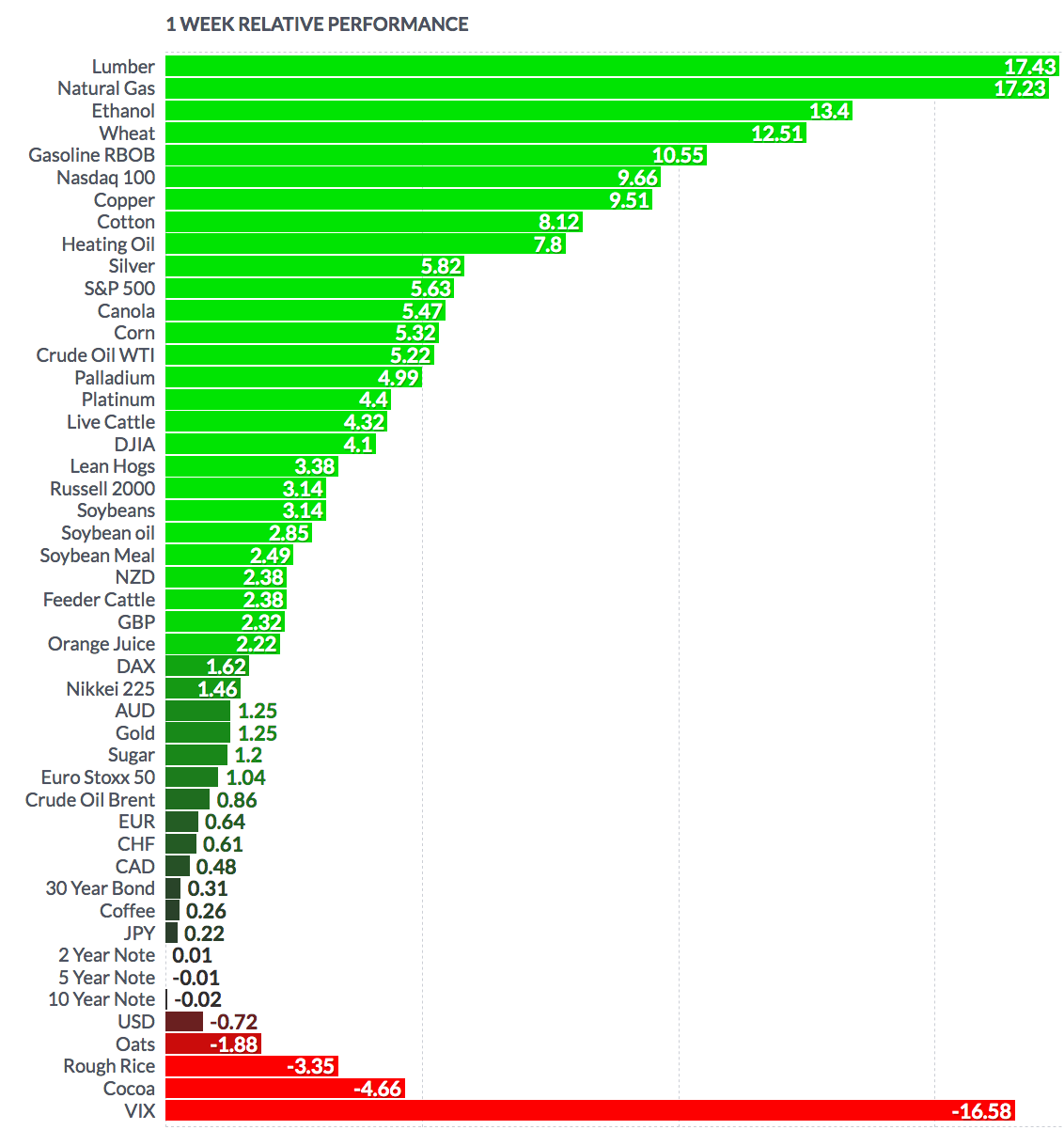 Futures Weekly Performance