Opening Bell: U.S. Futures Slip, Euro Stocks Flat As Spiking Pandemic Weighs
Asia rides Wall Street coattails for a strong quarterly finish
No similar sentiment carries into the European session
The S&P erases June's losses, but also wipes out strong monthly gains.
Key Events
Futures for the four US major indices–the S&P 500, Dow Jones, NASDAQ and Russell 2000–all edged lower on Tuesday and European shares slipped as coronavirus concerns resurfaced, overwhelming investors and offsetting positive economic data.
Yields were flat and the dollar fell.
Global Financial Affairs
Today's sluggish performance by US contracts may be surprising after yesterday's advances during the Wall Street session. Monday's gains were fueled by a better-than-expected Pending Home Sales print, along with rising expectations of additional government stimulus which boosted stocks, overshadowing a new record number of confimed COVID-19 cases in California and Texas as well as additional lockdowns across the country.
Stocks in Europe this morning hovered near opening prices, as traders appeared motivated to lock in profits after a fantastic quarter. Improved factory data out of China, along with yesterday's New York session performance boosted Asian shares.
The Stoxx Europe 600 Index is on track to register a 12.5% climb for the quarter, which ends at today's close. Should this occur, it will be the best quarterly advance for the pan-European index since March 2015.
However, the Stoxx is still 13.5% below pre-coronavirus levels. Bulls may view this as a positive: it shows that stocks remain significantly undervalued, leaving a fair amount of room for growth.
Earlier today, Asian investors stocked up on risk, focusing for now on strong data from the world's two largest economies, giving the quarter a final positive push, even as the contagion rages across the globe. Perhaps they're thinking the pandemic is a problem for the upcoming quarter.
Australia's ASX 200 ended the fiscal period on a high note, (+1.4%), as dip buyers picked up stocks at a discount after the preceding days' heavy losses. Japan's Nikkei 225 was the region's second-best performer, (+1.3%).
Despite China passing national security legislation on Tuesday, aimed at stricter governance of Hong Kong, the city's Hang Seng gained (+0.5%) though it underperformed regional peers today. Though it may have risen for quarter as well, (+3.5%) compared to China's Shanghai Composite, (+8.7%), and the S&P 500, (+18.1%), it still lagged.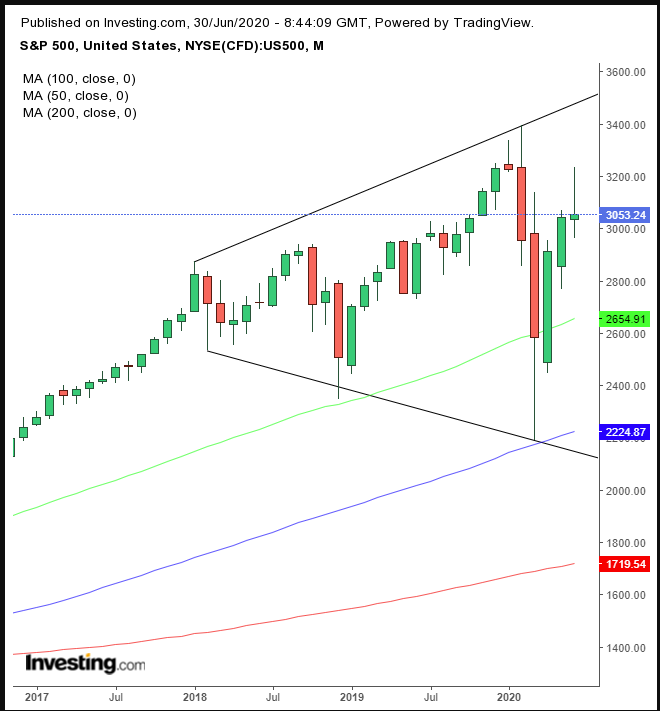 SPX Monthly
While the S&P 500 erased its June decline after record pending home sales for May beat all economic forecasts, the index is set to finish the month flat, more than doubling the distance from its record high. The benchmark has been trading within a broadening pattern, since Jan 2018, which tends to develop at tops.
Yields, including for the 10-year US Treasury, have been flat for the past three sessions.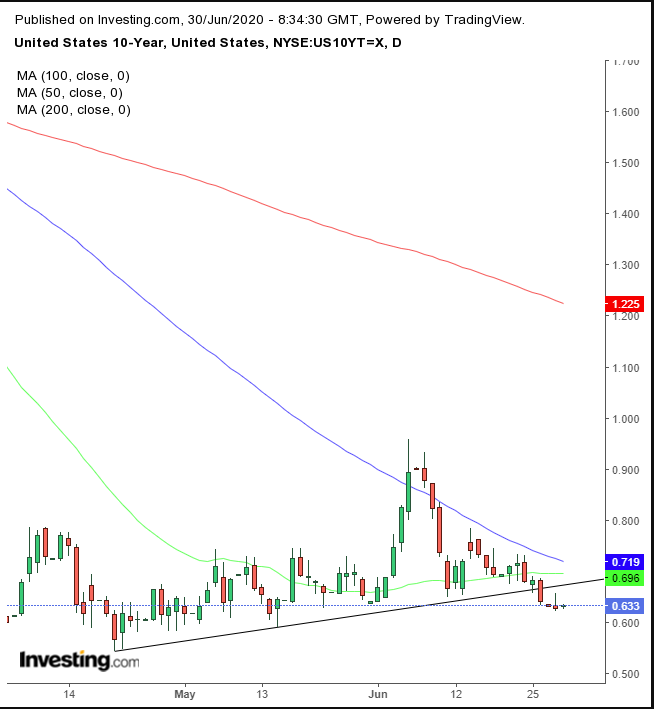 UST 10Y Daily
Investors appear to be keeping a tight grip on Treasury holdings, despite Monday's equity rally. Yesterday, rates attempted to climb back above their uptrend line since April 21 but were forced down before the close. Though narrowly a bearish pattern, a close above Monday's real body (price action between open and close, disregarding intraday movement) would render yesterday's candle an inverted hammer, a bullish signal.
At the ultra-long end of sovereign debt, Austria's new, 100-year bond issue is massively oversubsribed.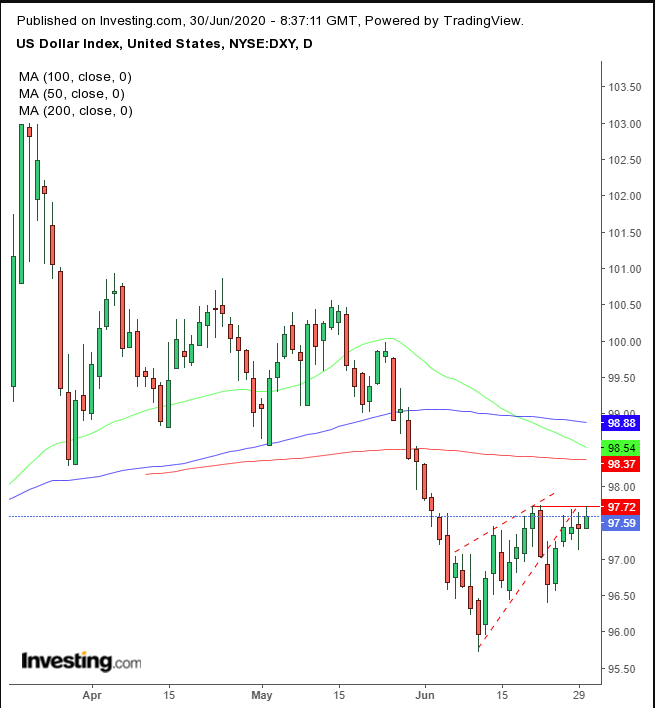 DXY Daily
The dollar gave up some of its gains, finding resistance at the top of a rising flag, bearish, after the preceding plunge. This is an ideal entry from a risk-reward perspective.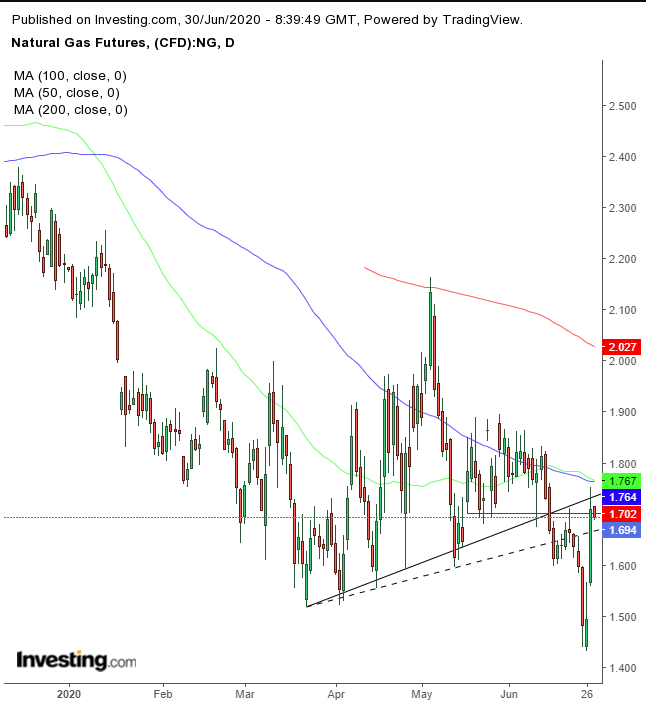 NatGas Daily
The price of natural gas may have found resistance–upon a return move–after completing a H&S continuation pattern.
Up Ahead
Federal Reserve Chairman Jerome Powell and Treasury Secretary Steven Mnuchin testify before the House Financial Services Committee on Tuesday.
The monthly US nonfarm payrolls report is released on Thursday.
Market Moves
Stocks
Currencies
The Dollar Index gained 0.2 to 97.62, paring from 0.3%.
The euro increased 0.2% to $1.1238.
The Japanese yen depreciated 0.3% to 107.59 per dollar.
Bonds
The yield on 10-year Treasuries dipped less than one basis point to 0.64%.
Germany's 10-year yield rose one basis point to -0.47%.
Britain's 10-year yield declined one basis point to 0.163%.
Commodities